Real Estate Office Space.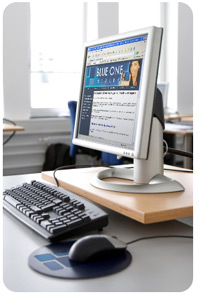 Some say working in an office is passé. We could agree with that, however, if you need to come to the office you will have access to everything you may need. Our office is a state-of-the-art facility fully equipped with everything a realtor may need.
At Blue One Realty you may work from home, if you'd like. You may send us everything via fax or email and not even come to our office if you don't want to. We don't force you to do any office time nor attend boring meetings. You can use the office whenever it's convenient to you.
Broker/Owner Natalia Arias recognizes the importance of providing cutting edge technology, innovative marketing and lead-generation to new Real Estate Agents. Also an efficient, safe, yet comfortable workspace where Agents can thrive their own Real Estate expectations not as members of a sales force but as professional partners.
We take responsability for providing them with the infrastructure of personal and professional support necessary to help them prosper. Giving our Agents the best tools and plenty of freedom and motivation to succeed, we all win. Our real estate company's main strengths are integrity, honesty, efficiency and high-end technology. We are proud of it. Our reputation depends on it and it is built on it.
Call me today for a confidential appointment.
Natalia Arias
Lic. Real Estate Broker

Cel. 786-306-5395
Office. 305-599-1817
[email protected]